13
Robin's Land Rover bit.
November 05 and another trip out with the NILRC. This time in north Antrim on a 'shiny' run through forest roads and then off road on an old drovers road across the hill tops.
The morning run through the forest was enjoyable but not particularly arduous. You might not choose to drive an ordinary car through it but with care you certainly could. We stopped at the car park in the BallyPatrick Forest for lunch which was taken either in the vehicles or under the thickest tree cover. It poured steady rain throughout!
After the break we moved on to what is known as 'the Military Rd'. After the heavy rain on top of what had already been a very wet week the track was in poor shape in some places. This was the view from the passenger seat on the way up the hill from the tarmaced road. Still raining!
At the top of that hill we came to a stop as a Range Rover had gone nose down in a water filled hole. It was pulled out and managed to get round and onward, next up was a Discovery. In this pic it looks like the Series 3 is in trouble on the muddy slope but not so! The Series truck is trying to haul the Disco back out of a bog hole where it became completely stuck. (in technical terms; a temporary cessation of forward motion).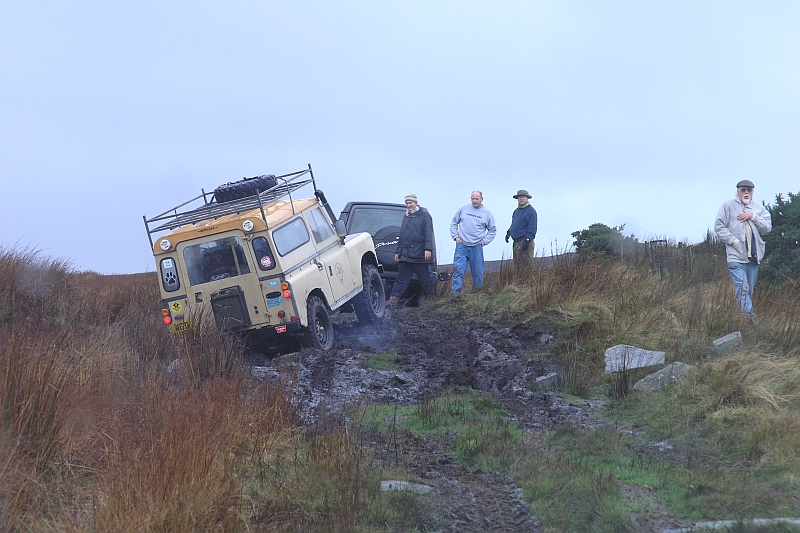 That's me coming back down the hill from looking at the nature of the problem. Worried? Me? You bet!. Eventually the Disco came back out of the rough and the driver decided that he was not going to risk it any further and stated his intention to turn back. I fully agreed. I wouldn't have a problem with driving someone else's car through there but I was not about to do it in mine!!!! On that day the Beast had no steering guard, no front recovery points and road tyres. Forget it!
A through the windscreen shot of the track back down the hill. It was a bit wet and slippery in places and the back end had gone slideabout just as the pic was taken.